Data driven decision are very important for a marketer, this blog is an example to understand how Indian Porn traffic data on the website like PornHub can release some great facts about Indian Porn Consumer behaviour! Not many of us explore Google Analytics in order to understand the search behaviour of website visitors. Search behaviour can help you understand what exactly your consumers want from your online business. Postmortem of  your website traffic can help you understand
Time spent by visitors on the website.
The most consumed content on the website.
The website search behaviour of visitors.
The purchase behaviour of your visitors
The countries, city they visit from.
The devices they use to visit your website.
The sources they come from.
Categorization of different segments and lot more interesting facts that can help
Porn Hub released its regular year in review report! For 2015, it had analyze few important facts which can help you understand search behavior of Indian PornHub visitors and what they enjoy the most on the website. With these facts below I am sharing some learnings and tips for marketers to digest.
Indian Porn Fact 1: The website traffic drops big time during the beginning of Ramadan season (June 2015) and during Raksha Bandha (August 2015).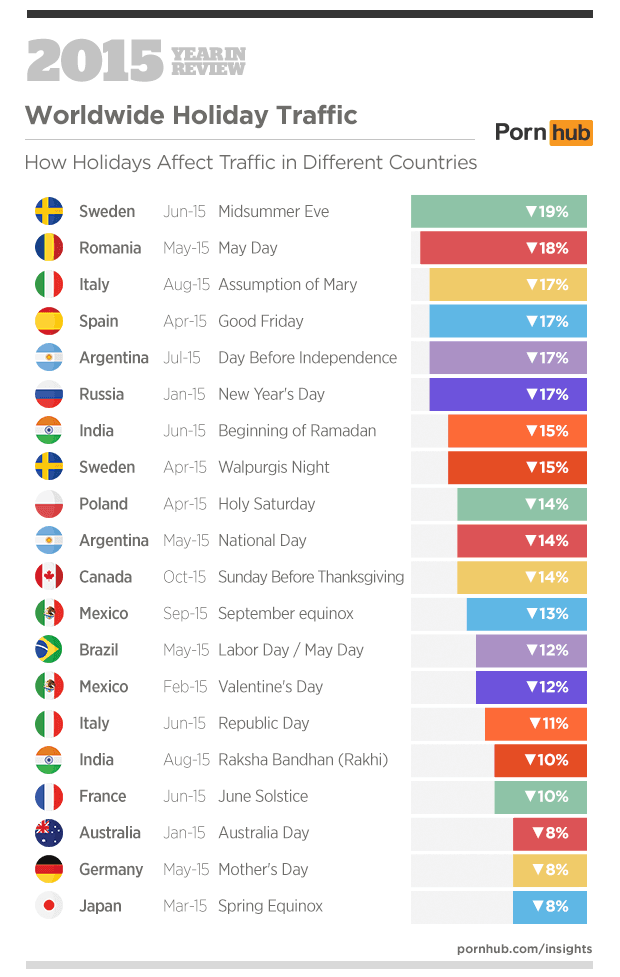 In 2015, there was a 15% drop down in traffic during Ramadan season and about 10% drop down in August during the Raksha Bandhan month! There was 21% drop in traffic during the New Year's eve and 1 to 4% increase in traffic during the Christmas Day in India where as other countries had major drop during the christmas eve. Digital Marketers should try communicating their key messaging before the holidays including the festive wishes so that it reaches to people and doesn't just stay online on your channels. Do not launch campaigns or contests exactly on the day of a national or festive holiday as not many people are online due to their personal commitments.
Indian Porn Fact 2: The report also released the fact that India is the 3rd largest country using the Pornhub website after US and UK and Indians spend close to about 9 minutes 30 seconds on the website. An average 3 minutes on a website is considered good but 9 minutes 30 seconds is a great time. This gives immense opportunity for the website to showcase many advertisements and earn money through impressions. There is a market for video! I won't suggest brands to create Porn Videos of course 😀 but create interesting, hilarious, educational videos that can educate your customers! They would spend more time on your website and also help you drive visitors on your YouTube channel so you serve two purpose:
Make people spend more time on your website.
Drive more organic traffic on YouTube.
Indian Porn Fact 3: India searches mainly for 'Indian porn', Indian bhabhi, Indian Wife, Indian actress, Indian college, desi, Indian bhabhi devar. Despite logging on to the International website, they are more into desi touch. Preferable has been other Asian Porn (Indonesia and Japanese) – possibly for the look alike or similar skin tone? (Just a thought :d). For content marketers from India, while you aim at global stories create stories keeping Indian context, using Indian pictures. Invest in clicking fresh Indian faces for your online ad campaigns than taking regular pictures from Shutterstock or image library. Indian bollywood celebrity definitely inspire people, use them as influencers for your Digital Marketing Campaigns. In India, following celebrities on Twitter is a craze, so tap these celebrities influence for your brands.

Indian Porn Fact 4: Sunny Leonne is the top most pornstar Indians watched / searched on Porn Hub! Sunny Leonne has been a rage in India past 2 years, undoubtedly with her big screen casting and small screen presence. The actress fantasy is on rise in this country. In fact, globally she had considerable 8 spot climb when compared to last year, all thanks to Indian media. I am sure there are many other Indian Porn Actress but the offline popularity equally gains the online popularity – it is important for brands to invest in both traditional and digital marketing simultaneiously to have the complete 360 degree integrated mixture of your communication. Remember, offline affects online more in India at this point of time unless the online campaigns are loud enough to attract the Indian mainstream media.
Indian Porn Fact 5: Male Dominates the porn market in India. However, 30% of visitors on the website were female audience. This confirms the typical Indian Internet user behaviour. In India, there are 24% female Facebook users and 76% male facebook users (as recorded in Facebook Statistics in India 2015) . Though 30% traffic is less, it still breaks the myth that only Indian Men Watch Porn! It's time brands create smaller communities targeting only women. Female internet users in India are less in numbers but they are potential segment which you cannot avoid.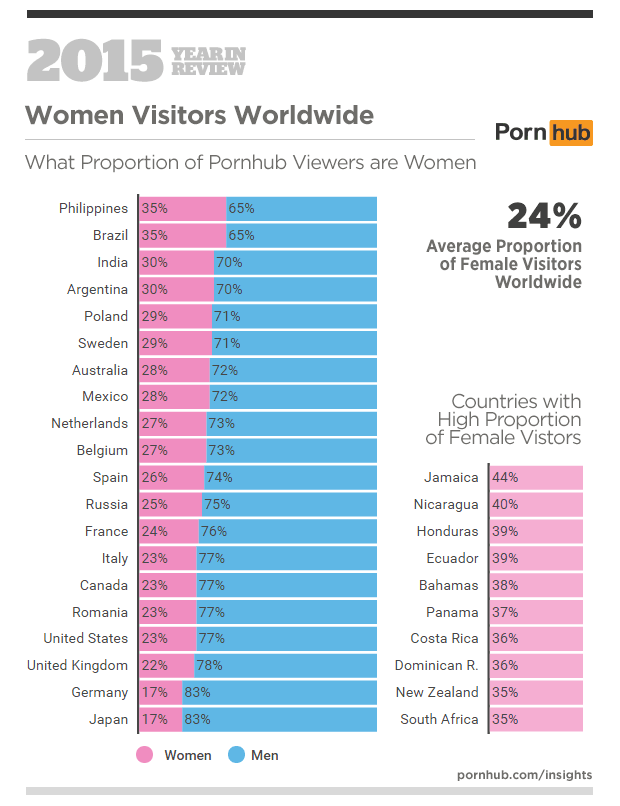 Indian Porn Fact 6: 79% of Indian Porn watchers are in the age group 18-34 – which in nutshell is the most active Internet using segment in India. This behaviour is the typical ratio of Indian internet consumption. Do you have your communication strategies ready for 18-34? Are you creating seperate messaging for the age group 34+? It is necessary, that you also target 35 to 65+ audience with clean and easy navigated websites.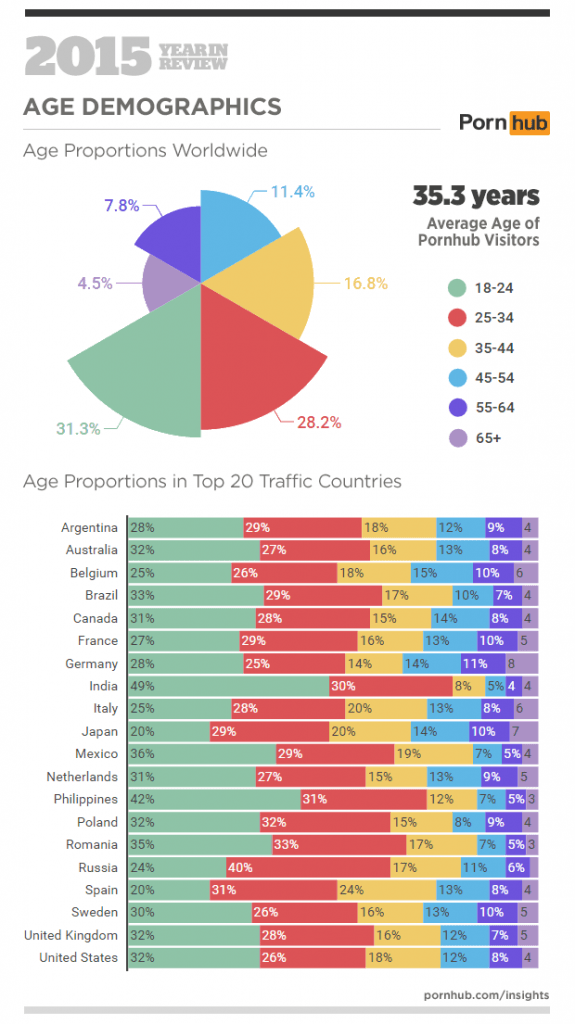 Indian Porn Fact 7: 63% of the website visitors were from Mobile and Tablet when compared to desktops and thats 15% increase from the last year. There are more mobile internet users in India when compared to desktop internet users so it is obvious that the majority traffic comes from Mobile. Also, mobile is more personal and watching porn is not so public act. Desktops at home are usually used by many people in the family, watching porn on mobile is more comfortable. As a marketer, you should have your mobile marketing strategy ready by now! Invest more in mobile advertisements, mobile optimization and making user website experience easier on mobile with they achieving their objective with few finger moves.

Its Your Turn Now! 
I am not going to ask you how often you watch porn or how much time do you spend watching porn! But, a simple question from Digital Marketing point of view – how do you correlate the data above with consumer or visitor behaviour ! What is your perspective from the report above?