The Act of Buying Web Space On The Internet
A website, more often than not, is created for being viewed by people from all over the Internet. To accomplish this, however, website owners need certain tools which can allow their website to be placed on the Internet. This is accomplished by the means of hosting services.
In simple terms, web hosting is the act of buying space over the Internet. When we say "buying space", we usually refer to the space that we pay for in the web servers. Web servers are made available on a renting basis, in which the users can store their website files. Usually rented, these web hosting services make websites available to Internet denizens whenever the website's domain name is typed in.
The Need For Web Hosting Services
As mentioned above, websites are stores in gigantic hosting servers. These servers are kept in facilitates, completely out of sight for us. Even though you don't witness them, web hosting services are an important part of the Internet. Every website that you publish, or want to publish, is placed on such servers for the world to see. Web hosting services provide you with a plane where you can place your website to be witnessed by people all around. And it is due to this aspect of theirs that web hosting services are an important aspect for every company, business, or individual, who wants to host their website over the Internet.
The Best Web Hosting Services
As you embark on the journey of hosting your website, you, too, will require web hosting services. However, you must choose only those services that are the most beneficial for you. Keeping this in mind, we have provided you with a list of web hosting services that have been highly demanded in 2019-2020 due to various aspects. These hosting services include:
Bluehost
GoDaddy
A2 Hosting
SiteGround
InMotion Hosting
Hostinger
GreenGeeks
Cloudways
Dreamhost
Hostwinds
WP Engine
InterServer
WebHostingBuzz
iPage
EasyWP
About – Claimed to power more than 2 million websites around the world, Bluehost is a powerful yet easy-to-use service. With simple, one-click features for WordPress, Joomla, and Drupal, the service caters to starters and professionals alike.
Renting Options – Depending on the type of website, Bluehost provides three hosting options, namely:
Shared – for new users, wanting to host a new website or blog at $2.95/month.
VPS – for websites that encounter moderate to high traffic at $18.99/month.
Dedicated – a resource-intensive solution for websites with extremely high traffic at $79.99/month.
About – GoDaddy's brand is widely-known. However, the service's offerings are greatly different from the actual numbers. Even though they claim to offer a 99.99% uptime guarantee and a free trial for their website builder, they actually only a 99.97% of average uptime and a speed merely of above 500ms. Moreover, they refrain from providing freebies such as site backups, SSL certificates, email accounts and more.
Renting Options – GoDaddy provides various specially curated options for their customers, including:
Web Hosting – a budget-friendly option at ?99/month.
WordPress Hosting – an option made for hosting WordPress sites with ease at ?99/month.
Business Hosting – a convenient and powerful option for businesses at ?1,159/month.
VPS Hosting – the power and flexibility of private servers at ?1,399.00/month.
Dedicated Servers – the most powerful hosting option at ?4,719/month.
About – One of the fastest services averaging at 336ms for a period of 16-months, A2 Hosting has curated plans to take care of important customer requirements including unlimited bandwidth and storage, responsive customer support, free SSL certificates, and much more. However, they falter at two locations. The service experiences unreliable uptimes averaging at 99.92% which fails to meet the requirements of most customers. Secondly, their plans contain numerous restrictions which, quite frankly, is irritating.
Renting Options – There are four primary renting options from A2 Hosting, namely:
Shared Hosting – meant for individuals hosting a personal blog or site at ?211.19/month.
Reseller Hosting – meant for small businesses attracting minimum traffic at ?699.72/month.
VPS Hosting – meant for customers who require the Shared Hosting option with additional capabilities at ?357.18/month.
Dedicated Hosting – an option for resource-intensive business needs at 7114.41/month.
About – SiteGround comes with a hefty beginner price-tag. However, with services such as powerful backend, free SSL certificates, site migration, email accounts, daily backups, and more, conveniently justify the pricing. Contrarily, the storage space provided according to the pricing isn't nearly enough to do the same. Furthermore, the speeds associated aren't as fast as other hosting services.
Renting Options – There are three renting options provided by SiteGround that include:
StartUp – meant to provide new users with a start at $3.95/month.
GrowBig – created for providing web growth to intermediate users at $5.95/month.
GoGeek – a plan meant for advanced users at $11.95/month.
#5. InMotion Hosting
About – InMotion Hosting is one service which caters to a more diverse range of customers. Not only does it provide a dashboard utility for starters, but it also tends to those customers who want web designing and development capabilities. Furthermore, its scalable nature makes it a perfect choice for rising businesses.
Renting Options – According to the user's needs, InMotion Hosting provides three renting options, namely:
Launch – a shared hosting option suitable for all skill levels at ?409/month.
Power – a suitable choice for small businesses at $8.49/month.
Pro – the best value option for growing businesses and developers at $14.71/month.
#6. Hostinger
About – A premium web hosting solution accompanied by a cost-effective price tag, Hostinger provides cutting-edge hosting solutions to its users. With its ability to provide efficient MySQL, FTP & PHP hosting services, the company has become the premium choice for all individuals, businesses, and companies out there.
Renting Options – Hostinger has curated a ton of renting options, that include:
Single – an affordable solution meant for individual users at ?49.00/month.
Premium – a suitable solution for small businesses at ?129/month.
Business – an effective service meant for growing businesses at ?208/month.
VPS Hosting – a dedicated hosting option for developers at ?285/month.
Cloud Hosting – an option for websites that receive voracious amounts of traffic at ?409/month.
#7. GreenGeeks
About – GreenGeeks is a highly popular hosting service amongst environmentalists. The company actively works to ensure that they replace thrice the amount of energy consumed by their servers. Although it is designed with an affordable price-tag, the company furnishes its users with unlimited space, transfers, emails, and other marketing services.
Renting Options – GreekGeeks offers three customized plans for its customers.
Lite – a perfect plan for customers to get started with their website or blog at $2.95/month.
Pro – a plan specially curated for growing businesses at $5.95/month.
Premium – a business plan designed for busy websites and e-commerce stores at $11.95/month.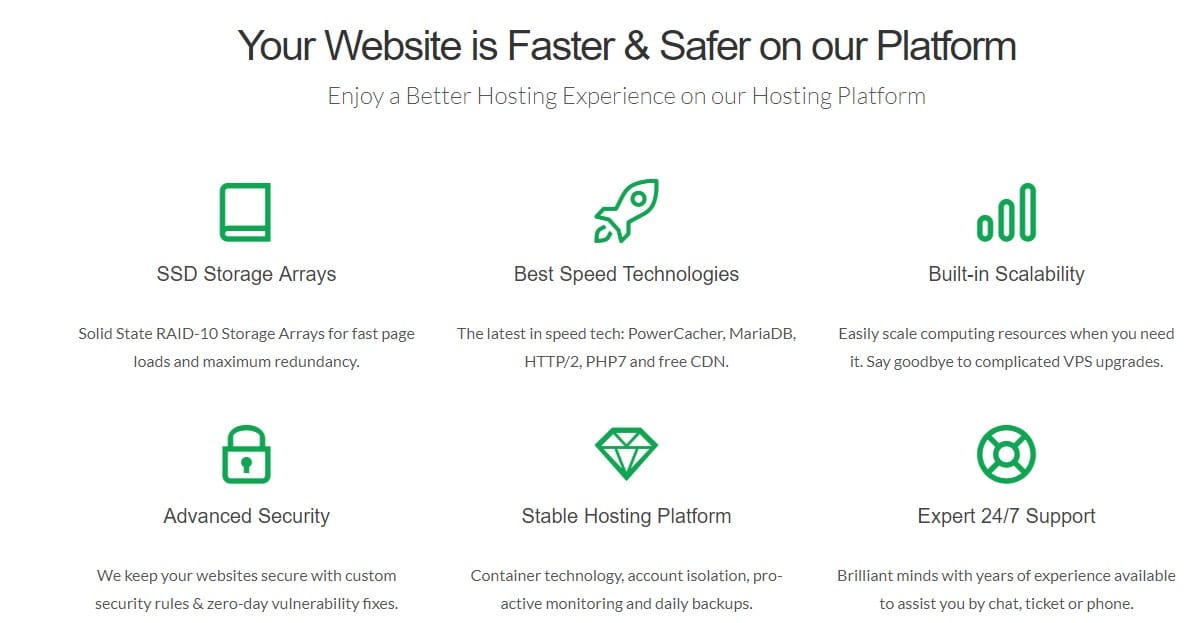 #8. Cloudways
About – A cloud hosting service based in Malta, Cloudways caters to a wide range of users with simplicity and elegance. The company provides numerous praiseworthy services, one of which is their no lock-in clause. Other hosting services require you to sign contracts for using their services for a certain period. With Cloudways, you won't need to sign such contracts, ensuring that you pay only for the resources that you use.
Renting Options – Cloudways has curated several plans without any associated terminology, allowing the users to choose a plan that is customized to their needs. Amongst the various plans, the most popular plans from Cloudways include:
The $10/month plan – meant for basic users.
The $22/month plan – meant for slightly intermediate users.
The $42/month plan – the most popular plan amongst small businesses.
The $80/month plan – a plan made for large companies and businesses.
#9. Dreamhost
About – Dreamhost is another service hosting more than 1.5 million websites. An awarded hosting service, the company provides cheap plans starting merely at $2.59/month. The most acclaimed offering is Remixer, a website building tool that designs an intuitive website without any third-party services. However, they do falter at providing live chat support and a traditional cPanel. Such cons make customers hesitant in choosing the service.
Renting Options – There are three primary renting options, namely:
Shared – a simple plan for beginners requiring a simple WordPress website, email hosting, and domain at $2.59/month.
DreamPress – a plan focusing specifically for WordPress at $16.95/month.
VPS – a plan for users wanting the functionality of Virtual Private Servers at $13.75/month.

#10. Hostwinds
About – A customer-centric hosting service which is often considered at the best hosting service, Hostwinds provides a 99.99% average uptime. The services innumerous features such as SSL certification, VPN, business hosting, shared web hosting, Windows VPS, and much more. With a specially-designed network, the hosting service secures availability even in times of failure.
Renting Options – There are two primary options that the service provides under their Hosting services. These include shared and business hosting. Under shared hosting, the company provides three plans, namely:
Basic – a plan for basic users at $3.29/month.
Advanced – an enhanced plan for individuals at $4.23/month.
Ultimate – the most powerful plan for individuals at $5.17/month.
Under the business plan, the company provides three plans, namely:
Basic – a basic plan for small business at $5.64/month.
Advanced – a plan for growing businesses at $6.58/month.
Ultimate – a plan for businesses attracting huge amounts of traffic at $7.99/month.

#11. WP Engine
About – WP Engine is the only hosting service on this list that is technically not a hosting engine. The hosting service was created especially for providing WordPress websites with speed, stability, and scalability. The site speed of WP Engine is what makes it stands out from the crowd.
Renting Options – There are three primary renting options that WP Engine facilitates its users with, namely:
Startup – a basic-feature plan for starting a blog or a small website at $35/month.
Growth – a plan for growing businesses at $115/month.
Scale – a higher capacity plan for medium business at $290/month.
Apart from these options, the company also provides a Custom plan which is mainly for business with millions of site visits every month to deliver high-performance with the fastest response times.
#12. InterServer
About – Often referred to as the master of unlimited hosting, Interserver provides an unlimited hosting option with all of their services, be it cloud, VPS, web, reseller, or other. One factor that makes the hosting service stand out from the crowd is the unlimited storage and transfers speeds that you receive. Moreover, certain plans associated with the service also provide free website migration, speed optimization, and instant activation for multiple operating systems.
Renting Options – There are mainly two web hosting plans that are provided by InterServer. These include:
Standard Web Hosting – Basic web hosting capabilities available at $5/month.
Pro Hosting – Pro Hosting is meant for businesses. There are various plans which are available beneath this, starting from $19.95.
#13. WebHostingBuzz
About – WebHostingBuzz is a small but highly reliable service. Even though it started in the UK, it has been specializing in providing hosting services with their 250+ server locations all around the world. Moreover, they come with a 45-day money-back guarantee, unlimited bandwidth, 20GB disk space, free site migrations, and much more. All these features make the hosting service to be one of the greatest hosting services.
Renting Options – There are three hosting that comes along with WebHostingBuzz, including:
Personal – An affordable hosting plan for smaller websites at $4.99/month.
Developer – A balanced plan for intermediate users at $9.99/month.
Business – A plan designed specifically for businesses at $24.99/month.
#14. iPage
About – iPage is one of the best sites for people starting their journey with websites. With features such as 99.97% uptimes, free 24/7 live chat, unlimited bandwidth, free SSL certificates, and much more, iPage has already proved that it provides a lot for the users. However, you should be aware of the fact that it is meant only for small business or individual website owners.
Renting Options – Following their one-size-fits-all philosophy, iPage offers only a single hosting plan. However, there are different charges depending on the period of contract. The plans are based on a 12-month, 24-month, and 36-month period, which are priced at $2.99/month, $2.49/month, and $1.99/month respectively.
#15. Namecheap
About – Founded back in 2020, Namecheap is said to be serving over 3 million customers. Namecheap serves customers with one of the most popular services to date. With free domain names, unmetered bandwidth, cPanel, and newer offerings such as EasyWP, the service has gained acclamations from all around the world.
Renting Options – There are two primary hosting services that Namecheap provides, that include:
Shared Hosting – meant for individuals and small businesses at Rs.205.73/month.
Reseller Hosting – meant for multiple websites or businesses at Rs.1205.84/month.